APPRENTICESHIPS
Start your future with an apprenticeship as a surveying technician in our surveying office.
Surveying technician apprenticeship (m/w/d)
APPRENTICESHIP AND TRAINING AT BUCK SURVEYING
Higher, longer, further – Survey technicians have important responsibilities in determining the details for land plots and building sites with millimeter precision. In our surveying office, you have the opportunity to complete a varied and future-oriented apprenticeship as a surveying technician (m/f/d), which will give you many further opportunities for development as your career develops.
If you…
Have a good school-leaving certificate ("Realschule" or higher in the German system)
Have a knack for mathematics, physics and geography
Love dealing with technical devices
Have good manual dexterity and organizational skills
Can work precisely and meticulously
Would like to spend your working days outdoors as well as in the office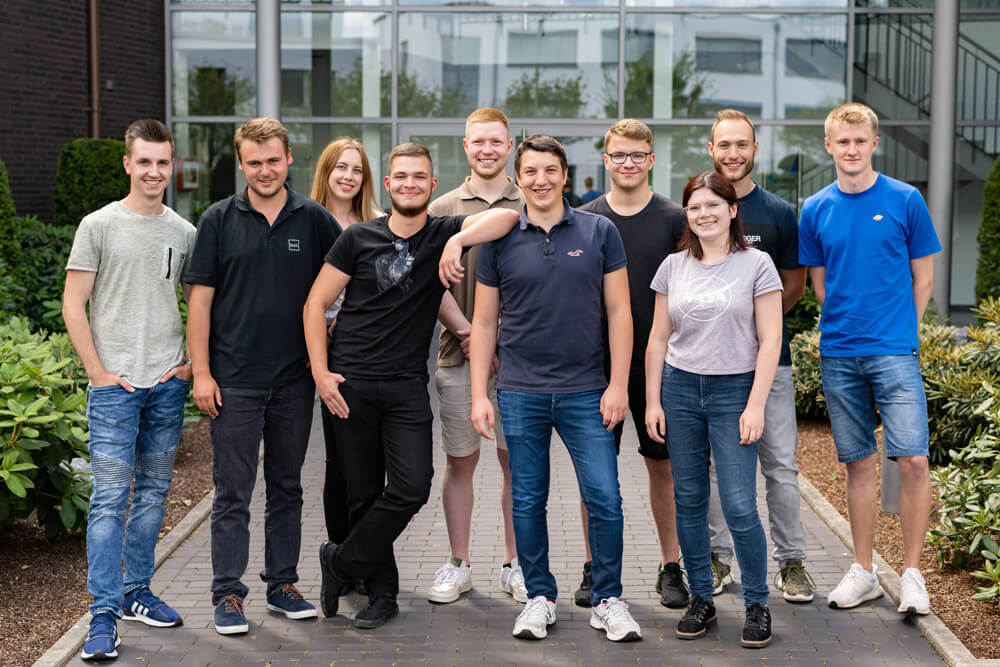 What does a surveying technician (m/w/d) do?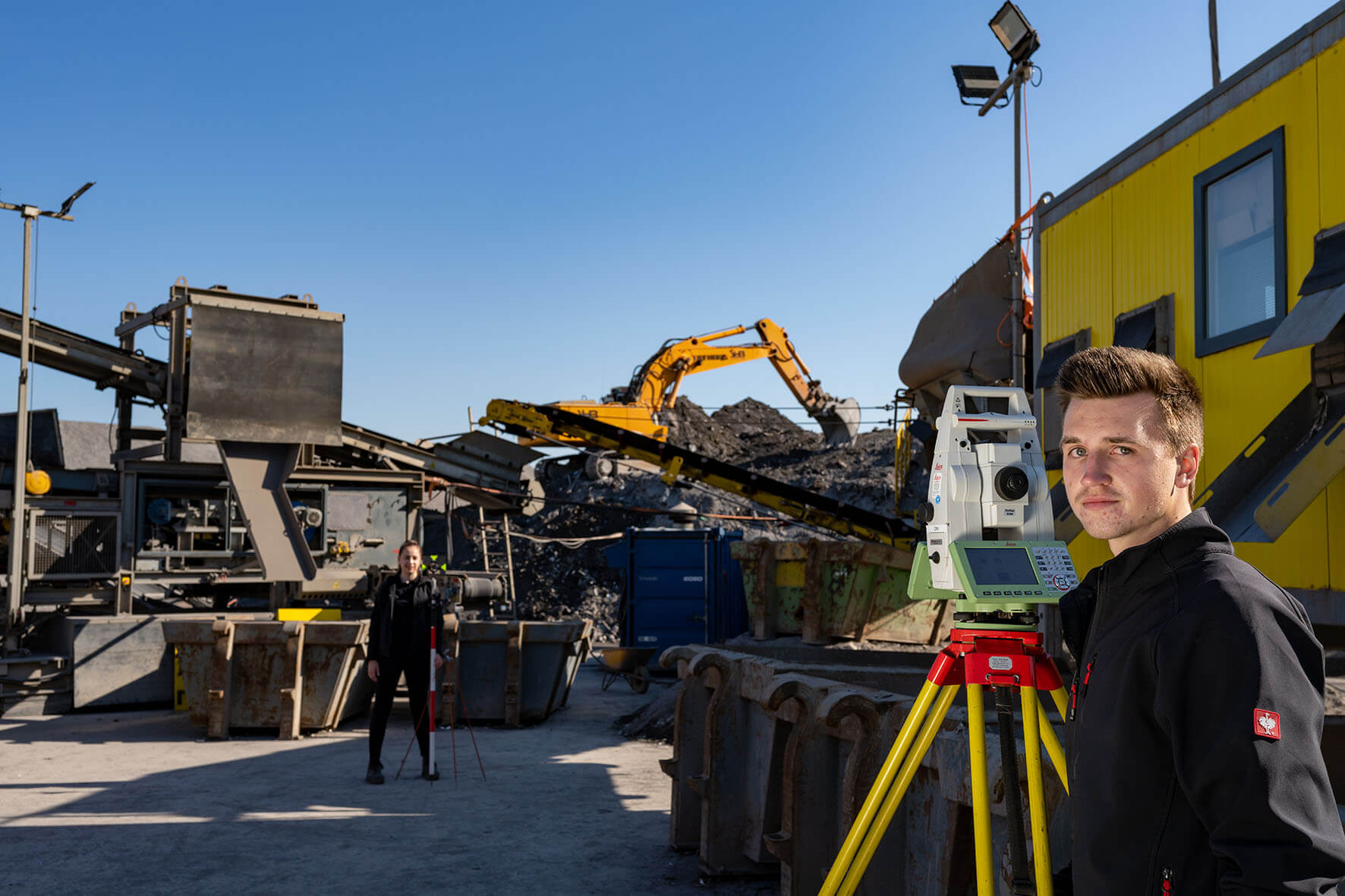 Surveying technicians (m/w/d) are specialists for geodata processes with a focus on on-site surveying activities. Because of this, their work is often done outdoors, for example for determining new land plots or land boundaries and for doing construction-related surveys and measurements. The geodata obtained from these measurements are then processed on the computer to produce plans and maps and to prepare or update cadastres. To do this, survey technicians make use of state-of-the-art measurement instruments such as electronic tachymeters, satellite measurement systems (GPS) and laser scanners.
 The skills of surveying technicians are needed for construction surveys, determining boundaries, defining new plots of land, and also in building new roads and traffic facilities.  What that means is that the surveying technician profession definitely has a future! Without thorough surveying work, buildings cannot be constructed, streets cannot be repaired and maps or plans cannot be properly prepared.
Length of the apprenticeship: 3 years
Start date: 01.08.2022
As different as we certainly are as individuals, the 49 employees at our surveying office have one very important thing in common:  team spirit and a passion for our profession!  Become a part of our world of surveying. Here more than 30 years of experience come together with the most modern technology. We look forward to hearing from you!
An apprenticeship after you finish school?
You'd like to start earning money and quickly begin to gain real practical experience? Then an apprenticeship is the right thing for you! In our surveying office, we pay a fair apprenticeship salary so that nothing stands in the way of your getting started with your own independent life. 
An apprenticeship will also promote your personal development. Working together with colleagues, bosses and other apprentices you'll experience a collegial and team-oriented environment. During your apprenticeship you can also continue your education if you want. After completing the apprenticeship you can still decide to pursue university studies as a surveying engineer as well as other training options. Flexible career opportunities and chances for advancement are waiting for you!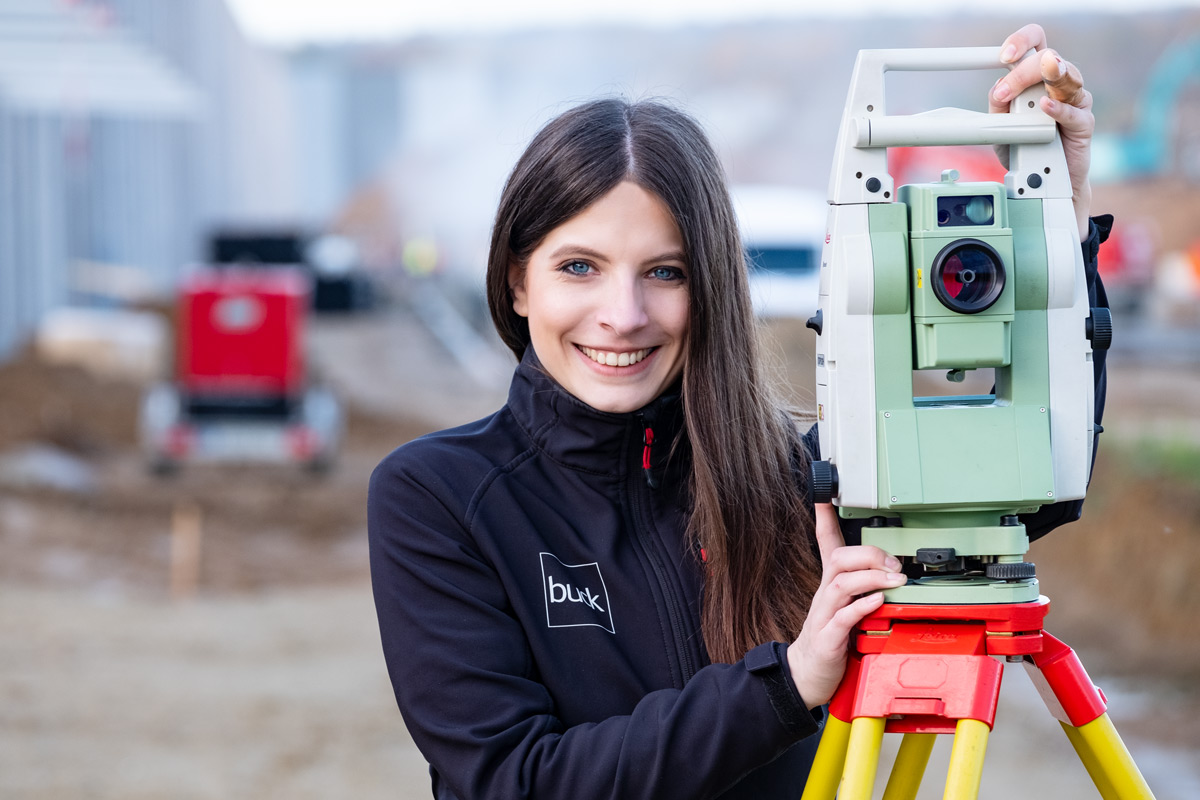 Our team at Buck Surveying will be supporting your apprenticeship in every respect. Many of us got started at Buck after finishing school  – just like you –  and have stayed on at the company. Therefore, we know what it takes to make a good apprenticeship program for surveying technicians. For apprentices who perform well and are highly motivated, the chances are very good to be taken on at the company in a permanent position. 
 You'll be joining a company with the most modern technical equipment – whether it's laser scanners, drones or software. You won't be spending the whole day in the office at a desk, nor will you only be outside in the wind and weather. You'll have some of both. You'll be supporting the builders of residential homes, company properties and major projects with their construction activities. In doing this, you will be working with our highly trained specialists and you'll get lots of training and guidance from them. 
 To visualize the data obtained through surveying, you will learn how to transfer geodata with the help of a computer onto plans, maps and cadastres. As a surveying technician your working days will be full of excitement, because no workday, project or construction project is like another. In the apprenticeship program for surveying technicians you learn all the different aspects of surveying, working together with a team of colleagues. The activities of the surveying technician are very diverse and full of variety. Surveying technicians aren't just expert in handling a measuring tape. They also are well versed in research work and in mathematics. Before any new survey is conducted, previous survey results need to be located, which are then reviewed and updated by your surveying crew. Precision, spatial thinking and concentration are important in this work.
Your apprenticeship to become a surveying technician (m/w/d)
In the apprenticeship program for surveying technicians you learn all the different aspects of surveying in a team setting. Surveying technicians (m/w/d) aren't only experts in taking measurements. Surveying technicians also are also well versed in research work and in mathematics. Before any new survey is conducted, previous survey results need to be reviewed and updated by your surveying crew. Precision, spatial thinking and concentration help you with this.
 Among the main duties of surveying technicians during the apprenticeship are surveying for subdivisions to create new land plots, boundary determinations of already existing properties, building measurements and the visualization of spatial data. Together with our surveying engineers, you will also take part in the construction and engineering surveying done for civil engineering projects. Especially for work with streets, bridges and tunnels, absolutely precise surveying and measurements are essential. Your work will be wide-ranging and full of variety. You can look forward to exciting projects.
Your working tools for surveying are no longer a prismatic square, a cross staff and a leveling staff, but rather GPS devices, lasers and satellites. In your training, you'll become familiar with all kinds of different technical devices and learn how to handle robots, lasers and drones with confidence.
Structure of the apprenticeship program for surveying technology
The apprenticeship program for surveying technicians lasts 3 years and starts each year on August 1.   During your apprenticeship, you will also attend vocational school for theoretical training days. The knowledge you get at school is incorporated into the practical day-to-day work at our surveying office, so that theory and practice complement each other.
 At the beginning of the second year of the apprenticeship program there is a written interim exam in the vocational school. Of course, we provide you all the support we can for this examination. Also for the final examination at the end of the third year, we take care to help with optimal preparation so that you can complete your training successfully.
 After the completion of the surveying technician apprenticeship, many options are open to you. If you have completed the "(Fach-)Abitur" (secondary school qualification allowing for university study in Germany), you can do a further university course of study in the areas of surveying technology, engineering, cartography or geotechnology. In addition, there are numerous advanced training courses, focusing on technical as well as academic aspects of surveying. Depending on your interests and motivation, we will support your continuing education!
Everything you need to know: In summary
Apprenticeship to become a surveying technician (m/w/d)
3 years, starting each year on 1 August
Theoretical part in vocational school
Interim and final examinations
Praxis-oriented training in surveying office
Work outdoors and in the office
Surveying for land plots and construction projects
Visualization of surveying data on the latest software programs
Work with various technical devices
Prerequisites
At least a secondary school degree
Manual dexterity, precision and care in work
Interest for mathematics, physics, engineering and geography
Good teamwork skills
Strong sense of responsibility
Possible further training
Software training (AutoCAD, Geo8, GeoGraf, Geobüro)
Management seminars
Drone pilot license
Leica training courses
If you are interested in the apprenticeship program at Buck Surveying or have any questions, please contact us at +49 (0)561/983 982-0 or send your complete application materials by email to: karriere@buckvermessung.de.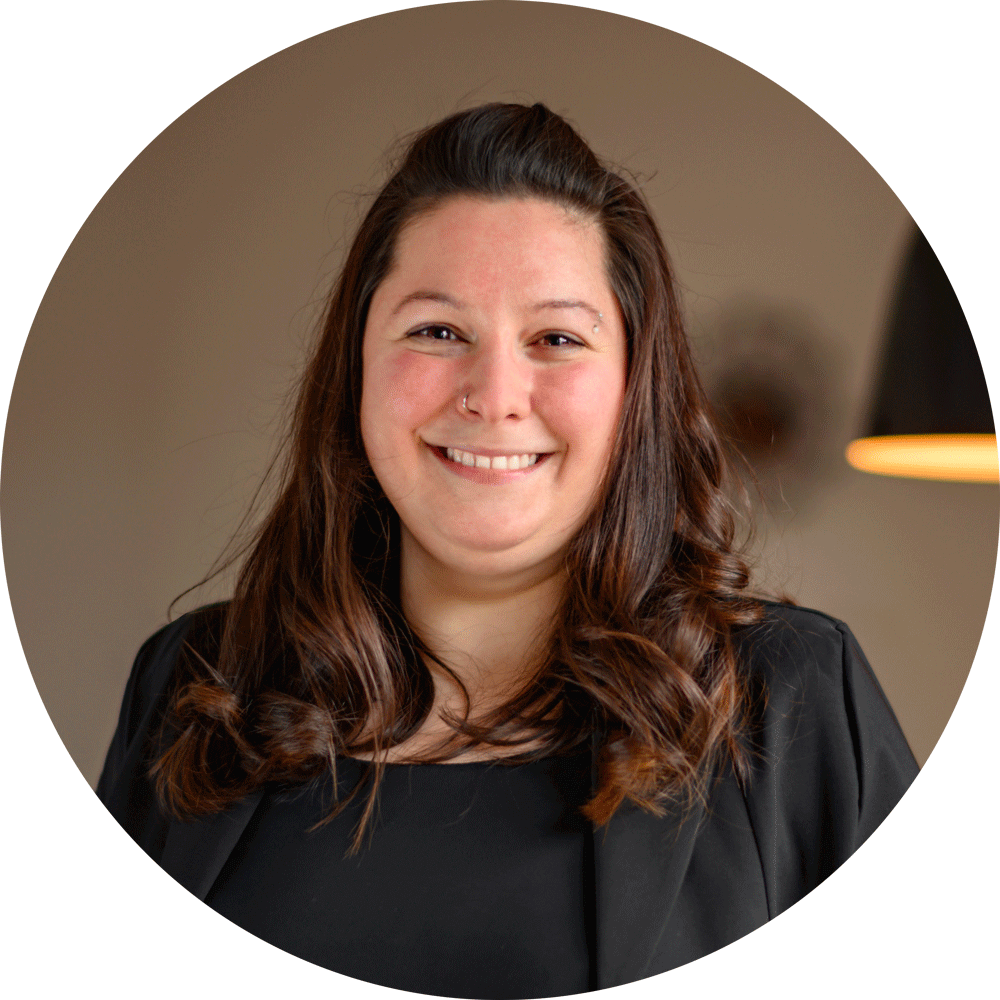 Your contact person for questions:
Jennifer Errico
Tel.: 0561-983 982-44
Mail: karriere@buck-vermessung.de