Buck Surveying needs you and your know-how! Whether you are a surveying technician, surveying engineer, an apprentice or intern, we are looking for reliable, engaged colleagues who would like to join our team.
If you are interested in one of the following positions, please click on the job description to get more information. Further details can also be found in our FAQs and in the description of the application process.
There are currently no vacancies.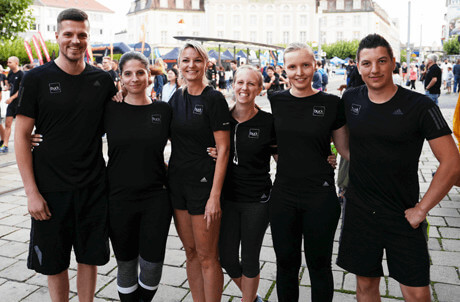 Buck Surveying – Job openings
There are many professional possibilities in our surveying office. Whether for an internship, an apprenticeship or for a regular position as a surveying specialist – we offer you excellent prospects, a fair salary and a secure job in a modern and up-to-date professional environment.
Our surveying office has been in operation for more than 30 years and was founded by publicly appointed surveyor Uwe Buck. Through our own experience, we know what a pleasant working atmosphere with exciting challenges pursued together with a highly motivated and friendly team should look like. With efficient decision-making procedures and flexible opportunities for advancement, anyone who is ready to work hard can develop his or her professional capabilities. We support all our employees with individual training and further education. This makes jobs at our company secure and built for the future.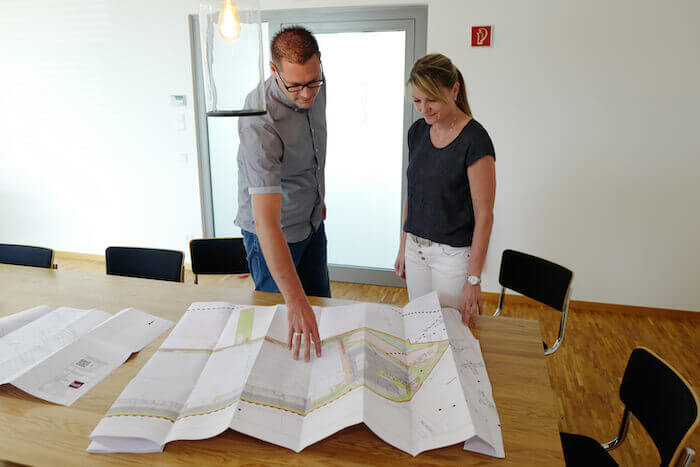 With the latest in technology and equipment, we provide a highly modern working environment. Whether its lasers or drones – we do not close ourselves off to new developments. On the contrary: New technical developments and devices in the surveying sector make the work of engineers and technicians easier and allow us to deliver even more precise surveying results. That's why we always stay informed about the newest technical developments and latest progress in the field.
If you're interested in becoming part of the team of Buck Surveying, send us your complete application to: info@buck-vermessung.de
Surveying engineer
The surveying engineer (also known as a geodesist) has a very important job. As Alexander von Humboldt did in the past, surveying engineers measure the world. This work is the basis for all construction projects. It determines the placement of buildings and the further proceedings of the construction activities. Misunderstandings and expensive construction errors can be avoided through precise surveying work which makes later adjustments unnecessary.
Tasks and benefits in the Buck Surveying office
In our surveying office, the tasks of the surveying engineer are particularly concerned with handling the marking-out of buildings for new construction. This does not only involve small residential homes but also the realization of major construction projects. Topographical surveys and deformation monitoring are also important parts of the job of a surveying engineer.
In addition to this, handling the surveying for plot subdivisions, boundary determinations and building measurements are all part of the daily work. In doing such work, you not only have the help of a friendly and collegial team but also the latest technology. Depending on the requirements, each job is supported with Leica Robotic Measurement Stations, GPS, SmartRovers, digital levels, 3D laser scanners or drones. These devices are necessary to determine and analyze land boundaries and ground displacements with millimeter precision.
Our software is also up to the latest standards: We have several CAD workstations for processing measurement results. Each of these is equipped with the programs Geograph, AutoCAD and Geo8. This makes it simple to exchange data among all the standard formats. And a loss of data is nearly impossible.
Prerequisites for the job: Surveying engineer
Engineering jobs involve a great deal of responsibility. Therefore we place a very high priority on having well-trained specialists. Prerequisites for being hired as a surveying engineer in our surveying office are a successfully completed course of university or technical college study (bachelor's/master's), good team working skills and a willingness to work hard. If you show us a good degree of initiative and decisiveness, we will be able to offer you good possibilities of advancement as well as a competitive salary.
Satellite geodesy loggings are received in our office.  In addition there are lots of exciting and individual assignments out of doors in the fresh air. These can involve individual work as well as larger team undertakings. Good relations with colleagues on the job as well as a capacity for independent work are both requirements for a surveying engineer.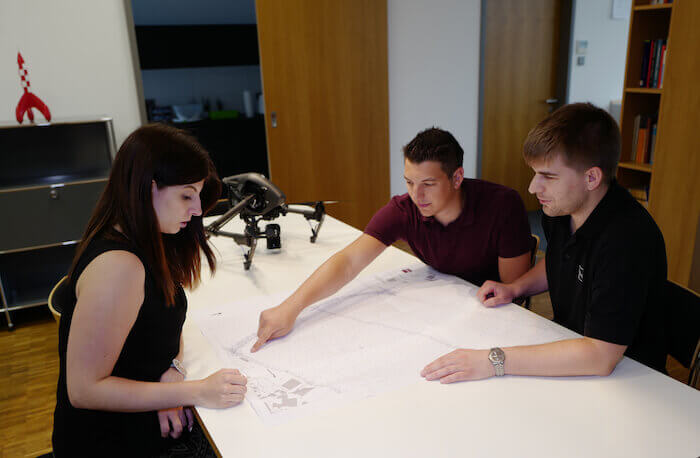 A strong interest in technical developments, IT and computer science topics also facilitates everyday work in our surveying office. It is also advantageous to have knowledge of legal subjects having to do with property, administrative or public law. This helps to evaluate situations quickly and correctly and to advise builders in the best possible way. If you're interested in taking on project management responsibilities, then manager qualities are also part of what's needed. An interdisciplinary approach and a readiness to work with the team and the surveying crew are of particular relevance for those with ambitions to advance.
Surveying engineer: General description
Similar to cartographers, surveying engineers had the task of topographically measuring the earth or portions of it. The survey measurements don't only need to be taken. They also have to be visualized in a suitable form. The visualization can be developed either digitally in software programs or manually with maps and in 3D models.
In cadastral, construction and land surveying, a surveying engineer mainly is involved with measuring geometrical dimensions and the transmission of building or property boundaries. For this, the plans must be transferred into the real-world setting and marked out. This work is the basis for all of the further construction activities at the building site. The surveying engineer is also involved in construction plans for building projects and civil engineering. If land plots are separated or joined or changed in their boundaries in any way in the course of such planning, then the cadastre office needs to be engaged. Publicly appointed surveyors are allowed to make boundary notes and modifications in the official cadastre.
Surveying technician
The technical employees execute a large part of the outside work and the follow-up calculations. Surveying technicians have usually already learned to work independently during their training. For difficult assignments they get support from a surveying engineer.
The main work of the surveying technician is to obtain data for cadastral surveying, for example, with survey and building measurements. In the office, these data are analyzed and visualized using the latest technology.
With the help of computer-aided measurement methods, surveying technicians can save time and effort. Good computer skills are therefore of high importance for the job.
Responsibilities and benefits in the Buck Surveying office
In our very well equipped surveying office, you can look forward to exciting work as a technician. We have a wide spectrum of very interesting projects. The main focal points of the work are surveying for the land survey registry, engineering surveying and land management. This involves working on ongoing jobs in the office and in the field. For example, the work includes topographical surveys, marking out for construction activities, surveys for dividing properties and building measurements.
We offer our surveying technicians personal opportunities for further education and training. Through this training you can learn about technical developments and you always have the chance for professional advancement inside our company. A wide array of professional development possibilities are available to all employees. You can look forward to a secure job in a collegial team with a pleasant working atmosphere with a distinctively low level of employee turnover.
Professional experience or the ability to quickly learn new work process are necessary for the job.
Prerequisites for the job: Surveying technician
Our job offerings for technicians are directed to all surveying technicians with a completed apprenticeship (surveying technician/geomatics technician) or with a completed university study. It is advantageous to have experience in working with cadastral and land registry surveying as well as with the software program ALKIS.
Personal qualities should include a good capacity for team work and a willingness to work hard. A good degree of initiative and decisiveness are final features of the job profile.
In addition to interesting assignments with demanding tasks for our company with a strong regional presence in Kassel, Germany, we offer individual programs of employee development. Our extensive training offerings support continual personal development when interest is there. Are you interested in one of our surveying engineer or technical jobs? Please send your application by email to Buck Surveying: info@buck-vermessung.de
Your contact person for questions:
Jennifer Errico
Telephone: 0561-983-982-44
Email: karriere@buck-vermessung.de