Internships
We offer internships to get to know the job of being a surveying technician or surveying engineer and also for university students to put what they've learned in the classroom into practice.
Selecting the right professional training from the many available options is a big challenge. Our internships offer you the chance to get an impression of the real work done by surveying technicians (m/f/d) and surveying engineers (m/f/d) and to experience what daily life is like in the profession – both in the office and out in the field. In addition to traditional school internships, we also offer internships during school holidays.
Do you enjoy mathematics, physics, geography and geometry?
Do you love new technology and technical devices?
Do you enjoy being outdoors?
Then we'll be pleased to receive your application!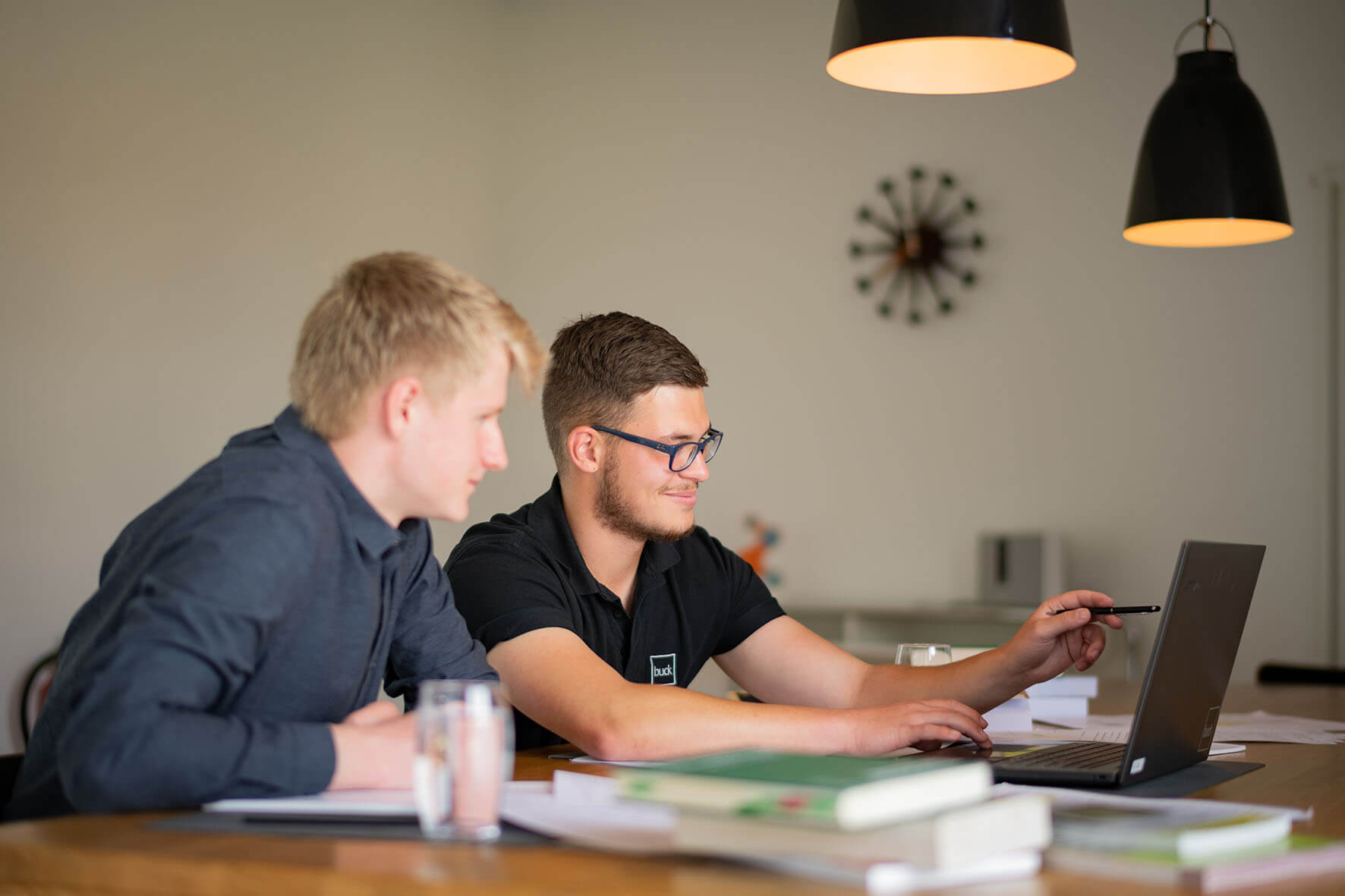 An internship at Buck – Educational, practical, positive!
In view of the wide range of options that high school and university graduates have today, using an internship to gain orientation in the job market makes lots of sense. An internship can also help to deepen the theoretical knowledge you've obtained in your studies. And internships aren't only beneficial on paper in your CV. They also can play an important role in many later jobs, because during an internship you not only gain an insight into everyday working life, but also learn fundamental skills through active participation.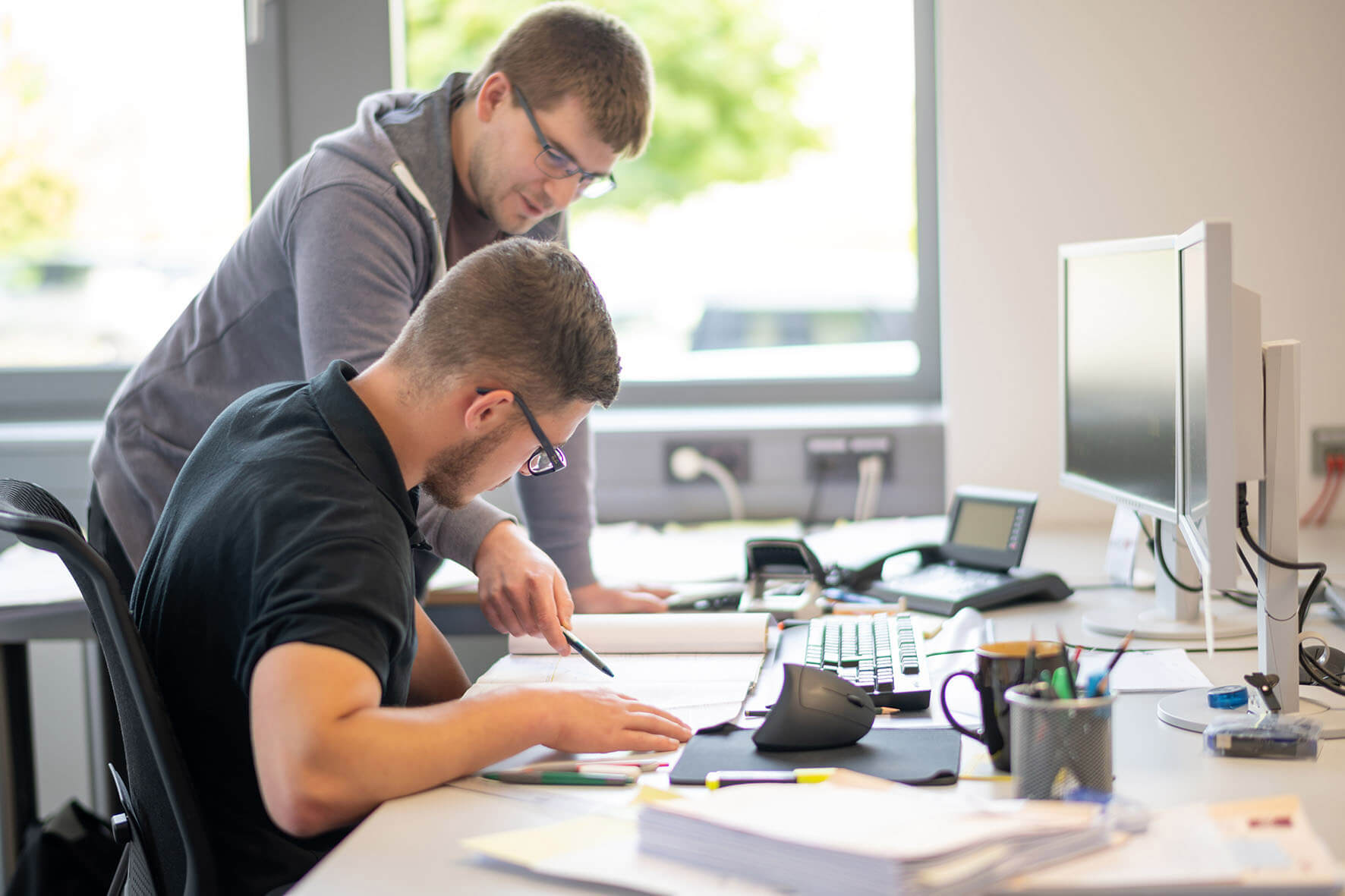 Soft Skills
Besides the specialist knowledge and capabilities that one needs for a specific job, so-called soft skills also play an important role. When you work with colleagues in a team during your internship, handle stressful situations and deal with criticism constructively, you develop some of the most important characteristics and qualities that you'll need for your professional life. The importance of such soft skills should not be underestimated as they are enormously important for future employers.
By successfully completing an internship you show your interest in a particular professional field to potential employers and your readiness to work. And you gain experience that will distinguish you from other job applicants in the future. Internships create important advantages for you in the development of your career and help you to find your personal orientation and career path.
Internships for secondary school students
During your internship, you'll get an up-close view of  the real working life of surveying engineers and technicians.  For secondary school students, internships can be organized during the school holidays or as one of the mandatory internships that your school requires. Many universities require pre-study internships as a prerequisite for certain courses of study. 
An internship during your school years helps to orient you for your future job choices. You can find out which professions and activities you enjoy and what fits well for you. In this way an internship can be very useful for your later choice of an apprenticeship or a field of study at university. 
In your internship you'll work together with both surveying engineers and surveying technicians. Are you interested in pursuing a career in a surveying office? We can offer you an excellent internship that is right in line with your interests.
Engineering internships during university study
Are you studying to become a surveying engineer? You can start to make use of what you've been learning at university. The practical experiences of an internship will be a great help in the theoretical work that you're doing at university. This way theory and practice support each other and deepen your overall knowledge of the profession. 
And an internship doesn't only provide you with more experience. It also gives you a chance to make contacts to companies and to potential employers. Our surveying office has excellent connections with other institutions and companies in the field. In this way, you get insights into other professional areas in addition to gaining knowledge about your own area of specialty and you can make new contacts in your field of interest. An internship also helps to develop your skills in dealing professionally with customers and colleagues. 
Of course, your chances of a future job at Buck also increase.  Because after completing an internship you'll be familiar with the work and the team at Buck Surveying and we'll know what we can look forward to in having you as a regular employee at our company.
Your internship with Buck Surveying in Kassel
We can make coffee ourselves! What, then, should you be expecting during an internship at a surveying office?
Of course, internships differ from company to company. With an internship in Kassel at Buck Surveying you can be sure that you won't be spending the whole day making coffee and working at the copy machine. Our top priority is to provide you with insights into what it really means to be a surveying engineer or technician and perhaps to gain you as an employee for our office at a later date. With that in mind, we offer you an exciting, team-oriented internship that covers many aspects of our work.
In the engineer internship you accompany our surveying engineers as they do their jobs. They take you along as they do work in the field, at construction sites and property inspections and in meetings with customers. You get more than just an impression of surveying technology and practices. You also find out about how to deal successfully with customers and other employees, with handling work tasks, finding solutions and being flexible.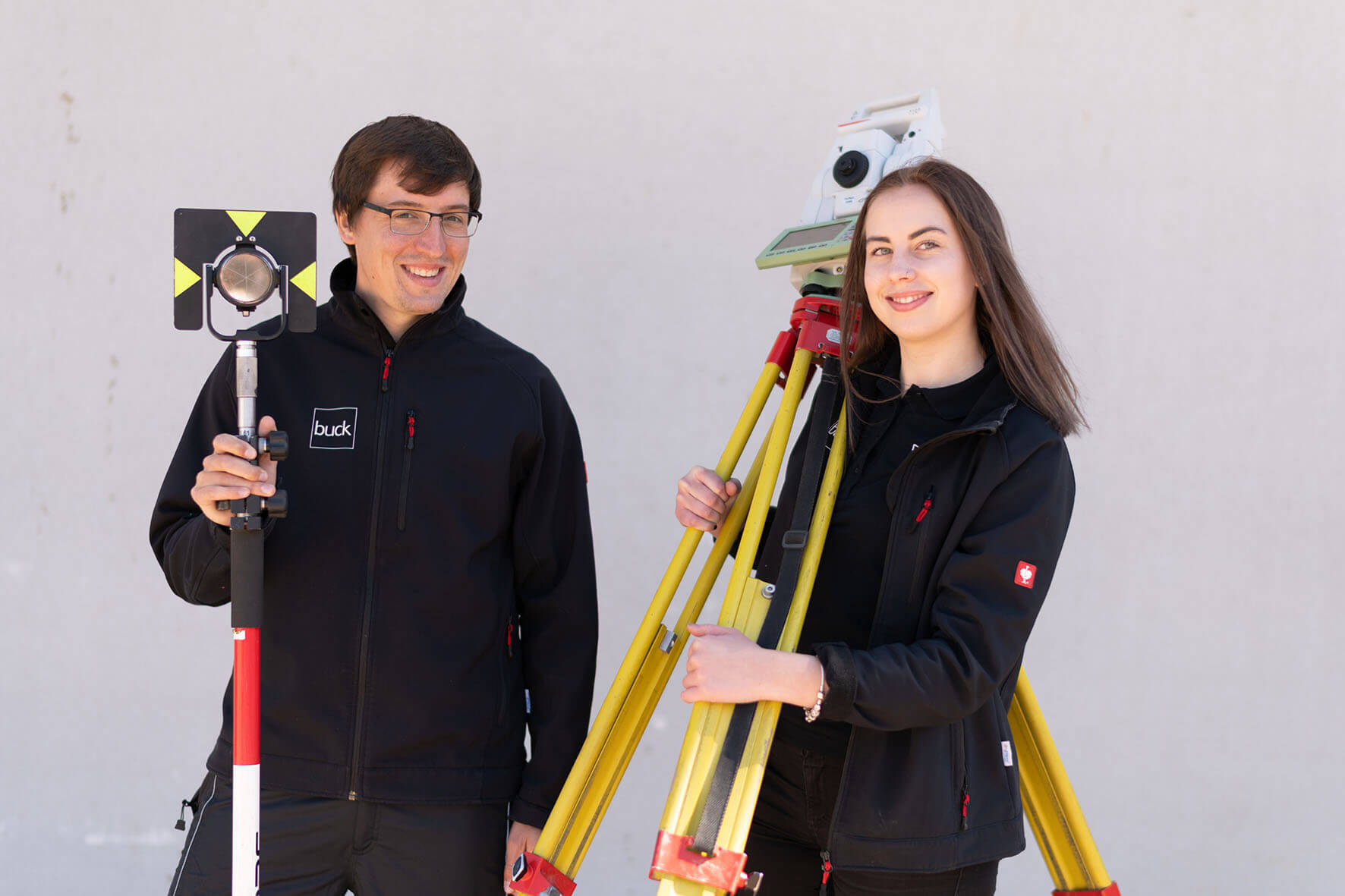 Our surveying technicians also work together with interns. After an extensive introduction to various surveying methods, you also get to make use of our technical devices. Whether its drones, lasers or robots, our technical equipment is always state of the art. You thus get insights into the modern technical possibilities of surveying.
In addition to surveying in the field at construction sites, you'll also get the chance to work with software programs on the computer in the office. Here we create maps and 3D plans. This way you can visualize the data obtained during the surveying work in the field on the computer in the office. These representations help to visualize the specific conditions and changes occurring at the sites and serve as a basis for comparison.
If you are interested in doing an apprenticeship as a surveying technician, we look forward particularly to your application for an internship. An internship provides a perfect start for an initial orientation in the profession. This way you can test whether being a surveying technician (m/w/d) fits for you. If you're suitably qualified, we will be pleased to offer you a position as an apprentice later on.
Also if you're interested in the job of surveying engineer (m/w/d), an internship can show you a lot about what it's like to work in the profession. In this way, you can find out what to really expect if you choose surveying as a profession.
Internship in Kassel
The unique city of Kassel with its 200,000 inhabitants offers more than just the Herkules monument and the Documenta art exhibition. It is also a a dynamic transport hub, business center and university city. In addition to its many cultural offerings, Kassel also provides great opportunities for private leisure time activities. Castles, museums and galleries are all part of the picture of what Kassel has to offer.
An internship in our Kassel surveying office offers many possibilities and new perspectives. Buildings that you perhaps know from years of living in the city, such as the University, the Aue Stadium or the Atrium shopping center can be seen from the new perspective of a professional surveyor. Because these are all buildings that we've worked on at Buck. And with others, you can be a part of the surveying process yourself!
Everything you need to know: In summary
INTERNSHIPS AT BUCK SURVEYING
Orientation opportunities in the form of school and holiday internships

Required internships in connection with university study

Job titles: Surveying engineer & surveying technician (m/w/d)

Pleasant working environment in a highly motivated team

Possibility of subsequent hiring at Buck

Prerequisites: Enjoyment of mathematics, physics, geography and geometry

Technical affinity

Readiness for outdoor work
REQUIREMENTS
Do you enjoy mathematics, physics, geography and geometry?

Do you have a flair for technology?

Do you enjoy spending time outdoors?
THEN YOU'RE PERFECT FOR BUCK!
Please feel free to fill out our application form, to contact us by telephone with any questions you might have at 0561/983 982 0 or to send your application materials to us by email to karriere@buck-vermessung.de. We look forward to hearing from you!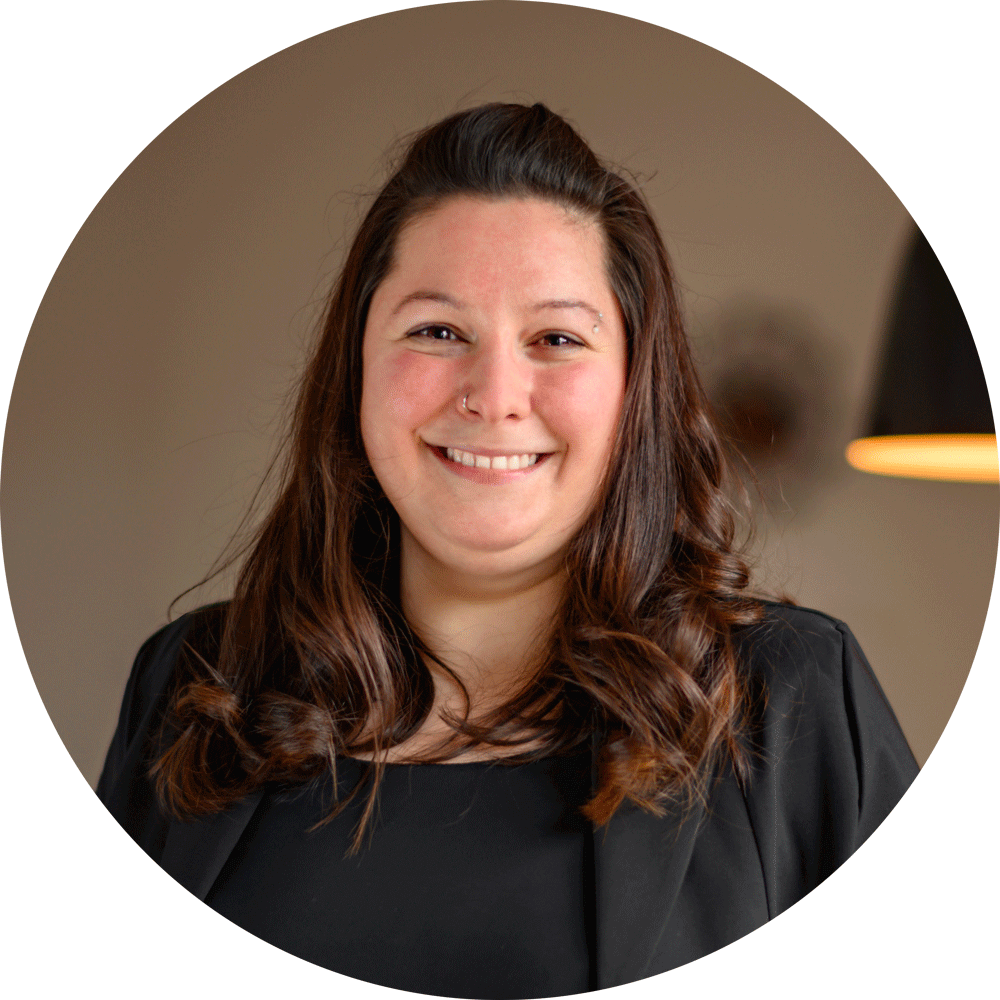 Your contact person for questions:
Jennifer Errico
Tel.: 0561-983 982-44
Mail: karriere@buck-vermessung.de