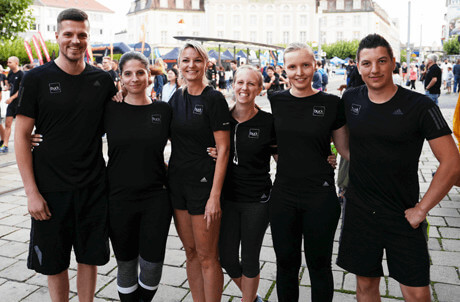 1. General questions about applications
How do I apply?
Go to the menu point "Application procedure". Our current job offers can be found under Job vacancies. We are also pleased to receive speculative applications.
What training and education do I need to work at Buck Surveying?
If you have completed your training as a surveying technician or have a degree as a surveying engineer, we will be pleased to receive your application – either for a listed vacancy or as a speculative application. To begin an apprenticeship, you need a good secondary school certificate (Realschulabschluss).
Is it possible to apply without these exact qualifications?
Are you a specialist from another profession that involves surveying activities? Please feel free to apply! Currently we also have master masons and civil engineers on our team.
What further education and training does Buck Surveying offer for its employees?
We place a high priority on regular further education to keep our professional knowledge up to date and up to the latest standards. In addition, we offer training in the following areas:
Software training such as AutoCAD, Geo8, GeoGraf, Geobüro for example

Various management seminars such as time management

Drone pilot license

Leica training programs
What benefits do you provide?
As a Buck Surveying employee you receive a broad package of benefits. Detailed information is available under "Work for Buck Surveying"
2. Questions about training and apprenticeship
When does the apprenticeship begin, how long is it, and is it possible to do a shorter version of it?
The apprenticeship begins on August 1 each year and lasts three years. A shortening of the apprenticeship time is possible under certain conditions (previous education, experience).
3. Questions about the application process
Five steps to working together
Step 1: Questions
Do you have questions about the listed job vacancies? We will be pleased to answer them! Please get in touch with us by telephone: +49 (0)561 / 983982-0 or email: karriere@buck-vermessung.de.
Step 2: Application documents
Send your application materials with a cover letter, curriculum vitae, school and university certificates and/or work references as a PDF document (max. 5 MB) to karriere@buck-vermessung.de.
Step 3: Reply
Following a short confirmation of receipt, we will take a close look at your application materials.  We will get in touch with you promptly to give you feedback.
Step 4: Meeting
If your written application has convinced us, we will be pleased to invite you to the company for an interview. There we will have the chance to meet, to talk about your career plans and to show you the office.
Step 5: Decision
Is the chemistry right and do our ideas fit well together? Then we will be pleased to offer you a contract and look forward to welcoming you as a new team member at Buck Surveying.
Your contact person for questions:
Carina Valastro-Luckei
Telephone: 0561-983-982-37
Email: c.valastro-luckei@buck-vermessung.de