Buck Surveying has the most modern and sophisticated surveying equipment available. This makes it possible for us to meet the needs of our customers whatever surveying requirements they might have.
Using this equipment, our expert team provides surveying data of the highest reliability through optimized and economical work processes.
Buck Surveying has 8 full-time surveying teams in operation and an additional team available when required.
All of the measurement teams are equipped with Leica Robotic Total Measurement Stations, Leica GPS SmartRovers and Leica Digital Levels with automatic data recording. These Leica satellite-supported surveying devices are among the most modern, accurate, quick-working devices on the market with outstanding data reliability.
The Leica Robotic Measurement Stations as well as the GPS SmartRovers support single-individual operation. This allows surveying activities to be conducted without additional personnel costs on a highly efficient basis.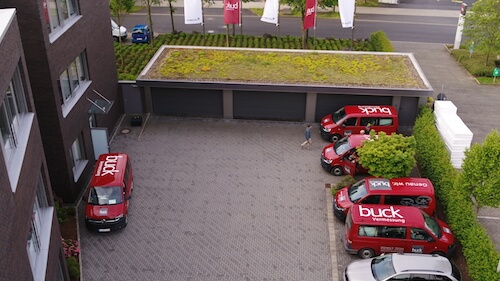 For architectural and facade measurements we make use of the world's most modern laser scanners. The new Leica RTC 360 has a measurement rate of up to 2 million points per second and can create a color 3D point cloud within 2 minutes.  At the same time, it is very light and can be easily brought almost anywhere. This makes it possible to measure all types of facades precisely and in exact detail on an economical basis.
With the help of our surveying drone (UAS = Unmanned Aerial System) we can produce high resolution aerial images. Using professional photogrammetry software, it is possible to render a 3D point cloud, a digital 3D terrain model, orthophotos or visualizations on the basis of these aerial images.