Surveying for landfill sites
Surveying for landfill sites involves settlement measurements, the marking out of the landfill surfaces and volume calculations.  Regular performance of surveys by surveying engineers is mandatory for landfill sites and represents an important part of the self-monitoring performed by landfill operators. This requirement is specified in the Landfill Ordinance which pertains to landfills of all five classes.
We act as "external inspection surveyors" for our customers as well as an auditor for construction companies and perform marking out and inspection work as well as checking surface sealing.   
Surveying for landfill sites
According to the Landfill Ordinance, all landfill operators are obliged to conduct self-monitoring measures. These include surveying of the landfill site performed by surveying engineers to ensure that no surface water can escape from the site.
At every landfill it needs to be assured that no contaminated surface water can escape from the landfill body and enter into the groundwater. Therefore, different layers of various materials such as plastic sealing sheets, geotechnical barriers or mineral seals are overlapped and put into place to prevent this from happening. The thickness of these layers needs to be checked and documented to the regulatory authorities.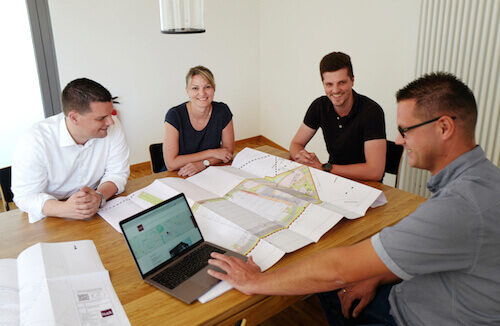 At Buck Surveying, we use the most modern and precise surveying devices on the market, including Leica Robotic Measurement Stations, Leica 3D Laser Scanners and our surveying drones. With these sophisticated techniques and our many years of experience, we will be pleased to also take care of your landfill surveying requirements.