Digital measured drawings
In our work, in addition to surveys, the digitization of data and of measured drawings also plays an important role.  Digital measured drawings and an exact documentation of a starting situation serve as the basis for  analyzing, interpreting or comparing the results of surveying activities on a long-term basis.
Digital measured drawings & digitalization
After surveying has been done, we represent surveyed buildings and layouts of buildings in technical plans and also take care of incorporating already existing documentation.   Using proven programs such as Geograph, Geo8 and AutoCAD, we prepare detailed documentation of the surveying measurements and the digitization of plans. As needed, we can digitize and vectorize plans and drawings in 2D or 3D.
Digital measured drawings show the on-site situation exactly as it is and are especially useful for facilitating planning of future renovations or extensions. In the meantime, the use of CAD is standard and makes it possible to digitize plans very exactly. CAD also makes it possible to do further work with plans directly after they have been digitized.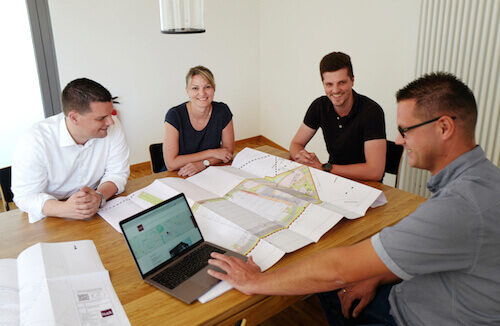 Normally, digital measured drawings include topographical survey information and building measurements. For construction projects nowadays, a 3D as-built documentation has become essential as this serves as the basis for further planning of buildings and of structures as well as of streets and paths.
Thanks to the digitization of measured drawings, you not only have long-term planning benefits but also save space from the beginning because drawings and documentation do not need to be stored physically in filing cabinets. In addition, digitized plans can be quickly and simply integrated in a management software program and analyzed there. For this reason, the drawings are not simply scanned but also vectorized so that it is possible to make changes in the digitized measured drawings and work with this material using a CAD program.
Our services in the field of digitization of construction drawings and blueprints include the creation of floor plans, apartment layouts as well as the preparation of as-built documentation of buildings and other structures. Whether to conform with statutory retention periods or because as an architect you want to provide your clients with an extended range of services, we can support you with the scanning of construction plans and drawings and with vectorization for further processing if desired.